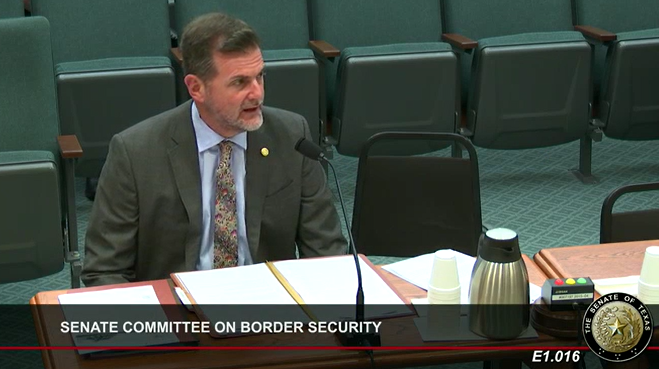 Prior to the filing deadline for this 88th legislative session, Texans for Strong Borders laid out an expansive priority list that (if all were implemented) would operationally end illegal immigration into Texas. It would also decrease the number of illegal aliens making their way into the greater United States (Texas is the leading state for illegal border crossings) as they hear of the restrictions Texas has enforced.
This is why TFSB designated Repelling the Invasion and Finishing Trump's Border Wall as our number one and number four priorities, respectively.
Texas State Senator Brandon Creighton (R-Conroe) authored SB 1481 and SCR 29 which would accomplish both of these TFSB priorities if passed.
SB 1481 would give the Texas Facilities Commission the power of eminent domain over real property to prevent human trafficking and illegal aliens from entering the US, among other reasons, to construct and finish Trump's border wall.
SCR 29 invokes the state of Texas' constitutional right to repel the invasion at the Texas border under Article I, Section 10 of the US Constitution and cites the Federal Government's failure to uphold their duty to protect states from invasion under Article IV, Section 4 of the US Constitution. It also references Section 4, Article 7 of the Texas Constitution which states the Governor is the "Commander-in-Chief of the Texas Military forces" and has the power to "repel invasions."
While laying out his legislation before the Border Security committee, Senator Creighton had the following to say: "As long as drugs and caravans of people can cross our border over hundreds of miles from our ports of entry, we have modern day slavery…either it's a priority to stop this from happening or it's not."
We wholeheartedly believe it is a priority for everyday Texans, therefore both should be swiftly passed out of committee.