Welcome to this week's Texans for Strong Borders Newsletter. Here's the scoop on all things regarding the fight to end illegal immigration:
Texas Republicans spar over Immigration Law in D.C.
In the early days of this month twenty Patriots from various Congressional districts spread across the country, including three from Texas, fought for an extensive list of concessions before they would consent to Keven McCarthy as Speaker of the House.
While the uniparty-friendly media and even many squishy Conservatives attacked them for fighting for forgotten Americans, they declined to vote for a speaker until they were guaranteed a list of concessions on priorities important to their base—the hard-working American citizens who put them in office.
Notably, one of those concessions was a vote on the Texas Border Plan spearheaded by Central Texas Rep. Chip Roy. This plan was released in the first days of December and included four main points: finishing the wall, enforcing our laws at the Border itself, enforcing our laws in the interior on a domestic level, and targeting cartels and other criminal organizations.
Every single Republican in Congress from Texas signed on to join Rep. Roy on his plan.
Except for Tony Gonzales…
This issue came to a head earlier this week as the Texas Border Plan in legislative form, House Resolution 29, was seemingly headed to the floor for a vote until Kevin McCarthy ceded ground to Tony Gonzales as he made unfounded claims that it disproportionately affected asylum seekers and would leave them without recourse. This maneuver by Rep. Gonzales forced McCarthy to redirect the bill to committee needlessly prolonging this border crisis.
In June, thousands of Texas Republicans gathered in Houston for the Republican Party of Texas's bi-annual state convention to decide on what was most important to them and send that message to their lawmakers.
Unsurprisingly Border Security was came in at #2.
Call Tony Gonzales' Office to tell him to support our Republican Priorities and to Stop Prolonging the Border Crisis for Cheap Political Points
---
E-Verify for All
Congressman Ken Calvert of California has authored the "Legal Workforce Act", which would mandate E-verify for all American businesses no matter the size of the business, the type of business, or whether it be a public or private entity.
Rep. Calvert isn't alone authoring legislation to hold businesses who hire illegal aliens accountable. A group of 25 State Senators in Iowa have authored legislation to do the same.
If passed, the Iowa bill would ensure that all businesses are employing American citizens or legal residents only. Senate File 108 would require those within businesses in charge of hiring practices to sign an affidavit swearing they are in "good-faith compliance" of the law. Any violation of the law could lead up to the loss of business licenses.
Different versions of legislation that mandate E-verify have found their way into Texas but none mandate E-verify for all businesses.
California and Iowa are beating us.
We need our legislators to author and pass legislation that mandates e-verification for all entities of business with strict punishment for any violation.
Putting a company's bottom line ahead of those who are unemployed as citizens in their own country or state has to end.
---
From 1860 to 2023 the Constitution is still the Same
Did you know that in 1860 Sam Houston declared an invasion at the Texas-Mexico border?
And, since the federal government had withdrawn troops from the border, Houston deployed Texans to the border to ensure the safety of Texans.
At the time, Houston said "a considerable portion of our State, bordering upon the Rio Grande River, is in a state of tumult and war.
Unfortunately, our state finds itself in a similar crisis today. Joe Biden, Kamala Harris have done their photo-ops at the border but don't care that it's being overrun. Even Governor Abbott has not done enough to meet this crisis.
It's time for Abbott to take the same action Houston did in 1860; formally declare an invasion and deploy troops to repel that invasion by directly interdicting illegal crossings and expelling those who do get across directly across the border to Mexico instead of turning them over to federal officials who will process and then release them into the United States.
---
Our Priorities are Your Priorities
In case you missed it, this week we released our legislative priorities and our President Chris Russo spent two days at the Capitol discussing them with lawmakers.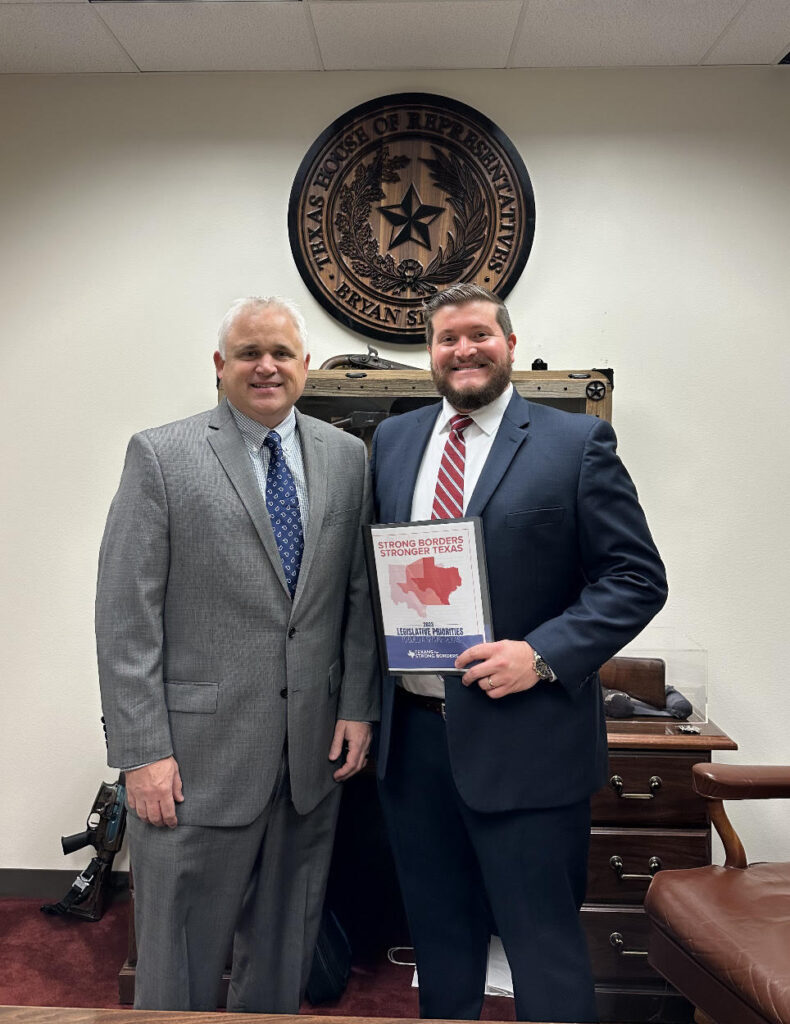 At a time when illegal immigration is at its worst, we are committed to be at our best but we need your help. If you haven't already, you can send a letter to your lawmaker by visiting our website HERE.
Be sure to forward this email to members of your friends and family who are concerned with the crisis at our southern border. With a groundswell of activity, Texas' border will be stronger than ever before!